Our Services & Chiropractic Techniques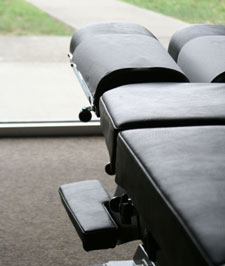 Our Services
At Active Health Chiropractic, Dr. Kmiec supports your journey to pain relief, wellness and health by offering effective chiropractic care as well as massage therapy, complete rehabilitation programs, weight loss, orthotics and general life coaching. Dr. Kmiec and her staff treat a variety of age groups.
Chiropractic Manipulation
We use a number of highly-effective adjusting approaches to help improve spinal biomechanics and reduce nervous system interference. The approach we use is based on our clinical judgment and years of experience.
Flexion-Distraction
We use a special table so we can traction your spine, opening up the spacing between spinal vertebrae and relieving pressure to spinal. read more»
Cervical Lumbar Traction
Electric Stimulation
Ultrasound
This high-tech deep tissue "micro-massage" helps reduce swelling, increase blood flow, decrease pain, reduce joint stiffness and stimulate cell-repair. read more»
Doctor Administered Muscle Therapy
Massage Therapy
At Active Health Chiropractic, we offer massage therapy to our patients and often incorporate it into your treatment. Massage Therapy is a treatment that allows Dr. Kmiec, or in some cases her licensed massage therapist, to work on tight muscles which helps to reduce muscle spasms. We want you to relax while you are here and feel that relaxation is a strong part of the healing process.
Rehabilitation and Home Exercise Programs
Nutrition and Weight Loss
Kinesiotapeing
If you've been to a chiropractor before and prefer to be adjusted in a particular way, let us know. We want you to relax, enjoy and fully benefit from your chiropractic care.