Scranton Chiropractor | Active Health Chiropractic
From Relief to Wellness With a Wholistic Approach to Chiropractic Care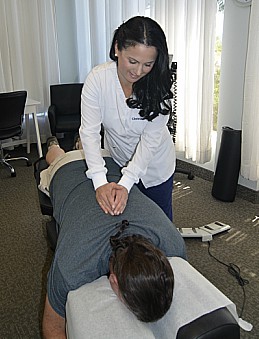 At Active Health Chiropractic, our wholistic approach to care reaches beyond relief to provide lasting wellness and improved health. Scranton chiropractor, Dr. Christine Kmiec offers chiropractic as well as massage therapy, complete rehabilitation programs, weight loss, orthotics and general life coaching. Dr. Kmiec is the Scranton female chiropractor who listens to your concerns and treats not only the symptom but evaluates and treats underlying factors that may be causing discomfort or distress. At our Scranton office, you will find a calm and comfortable atmosphere with care designed to enhance and promote your health. Call our Scranton chiropractic office to make an appointment and start your path to wellness today.
Services Offered at Active Health Chiropractic
Chiropractic manipulation
Flexion Distraction
Cervical and Lumbar Traction
Electric Stimulation
Ultrasound
Doctor Administered Muscle Therapy
Massage Therapy
Rehabilitation and Home Exercise Programs
Nutrition and Weight Loss
Kinesiotapeing
THANKS TO ALL OUR PATIENTS FOR ALL YOUR REFERRALS!
Without You, Active Health Chiropractic Would Not Be Possible.
Celebrating 21 Years in Practice
The Active Health Chiropractic team has many years of experience treating spine, extremity, and muscular conditions. Dr. Kmiec celebrates 21 years in practice in 2023. She specializes in family practice treating all age groups and conditions. We employ the most talented therapists that have completed the most up to date continuing education on medical massage.